Liquid Waste Removal and Grease Trap Cleaning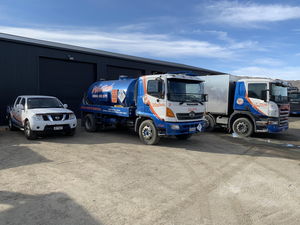 Wastech Services Central Otago is available throughout Queenstown, Wanaka, Cromwell, Alexandra and the surrounding Central Lakes region 24 hours a day, seven days a week, every day of the year.
We offer a wide range of services including interceptor cleaning, waste oil collection, liquid waste removal, grease trap cleaning and the removal of industrial and factory waste. Wastech Services is an approved contractor and will remove and dispose of all liquid, hazardous and solid waste in accordance with environmental requirements at an authorised Waste Processing Plant.
Interceptor Cleaning
Interceptors are designed to trap and hold oil and grit from lightly contaminated run-off, allowing the water to flow into the sewer. It is the occupier's responsibility to ensure sumps or interceptors receive regular maintenance and remain in good working order.
They must remain effective to eliminate all sediment and surface contaminants, preventing them from entering into the local sewer system. The frequency that inceptors require emptying will vary depending on the nature of your business.
Wastech Services offers fast, efficient and hassle-free interceptor cleaning, with no job too big or too small for our fleet.
Central Otago Waste Oil Collection
Wastech Services can remove waste oil from processing plants, automotive operations, bilge or oil waste from vessels and more, with no volume restrictions and, are fully qualified in the safe removal and transportation of the waste oil to the appropriate procession plants or disposal destinations.
Liquid Waste Removal
Wastech Services offers a modern fleet, ranging from 4,000 litres to 15,000-litre tanks specifically designed to remove large volumes of liquid waste. Wastech's specialised vacuum trucks can remove any liquid waste and we are happy to complete one-off jobs or schedule in regular waste removal.
The removal of factory and industrial waste
Wastech Services offers a modern, varied fleet and can help with anything from sump cleaning to waste water removal, wash bays to blood tanks, you name it, we can remove it in a prompt and hassle-free manner. If you're unsure, just freephone 0800 800 591 and we can coordinate a plan for the best outcome in achieving the removal of your liquid waste.
Grease Trap Cleaning
Wastech Service provides expert grease trap cleaning to commercial businesses including cafes, restaurants, canteens, hotels, bars, takeaway food outlets and all commercial food preparation businesses.
What is a grease trap?
A grease trap, (also known as grease interceptors, grease recovery devices, and grease converters) is a plumbing device designed to intercept most greases and solids before they enter the wastewater disposal system. They are used to reduce the amount of fats, oils and greases that enter the main sewers.
Effectively, they are boxes within the drain run that flow between the sink in a kitchen to the sewer system. They can be made from a range of different materials including stainless steel, plastic, concrete and cast iron and usually range from a 35-litre capacity upwards. They only have kitchen wastewater flowing through them and are not served by any other drainage system (such as toilets). The location of a grease trap can vary from above ground, to below ground, inside the kitchen, or outside the building.
Get your grease trap cleaned by the professionals in Central Otago
When it comes to getting your grease trap cleaned, it can really depend on your business and the volume of food produced, but it shouldn't be left for any longer than three months. When you choose Wastech Services, you know all waste from your grease trap is disposed of professionally at approved council dumping stations.
Wastech Services Central Otago is available 24/7, 365 days a year throughout the Central Lakes region including Queenstown, Wanaka, Cromwell and Alexandra. Give us a call on 0800 800 591 or fill in the form below to send us an email.